While its essential to have a good mattress for car camping, overlanding or any kind of travel, the uses do not stop there. I will be honest that we had a little sticker shock when we started assembling materials and samples to test but at the end of the day, we found every single one of these mattresses well worth it. Spending $300 or more on a camp mattress seems absurd until you actually sleep on one (and get a good night sleep) and realize the many uses.
Depending on your choice of hotels, a good car camping mattress can also pay for itself in a couple of nights. Maybe 4 or 5 if your choice in the Red Roof Inn. But even a Hilton Garden Inn starts around $139 dollars a night plus taxes and goes up. For most of us on the road going to a destination, a race or whatever, you are in this room for maybe 8 to 9 hours max.
The many uses for a good mattress can range from sleeping in the back of your van, jeep or truck camping, while on a road trip, having some downtime between events (like soccer games for kids), a kids sleepover or the unexpected / uninvited guest that pops in or wears out their welcome.
MondoKing™ 3D Sleeping Pad
The MondoKing 3D is Therorest top end sleeping pad. Boasting 4.25 inches (11cm) of premium foam, the ultra-cozy pad combines a plush next-to-skin feel with an 7.0 R-value to keep you warm and comfortable in any condition or season. StrataCore construction provides lofty three-dimensional shape, and compresses easily to save room in your trunk or closet. The extra-comfy self-inflating pad features the easy-to-use TwinLock valve, allowing the pad to inflate three times faster and deflate five times faster. Like all Therm-a-Rest pads, the MondoKing 3D is made in market to ensure quality and minimize environmental impact. The pad includes a go-anywhere stuff sack with a built-in pump sack.
What we like about this Mattress: Ultra-comfortable and a great price starting at $239.95. It also comes in an XL size for those toss and turners. Paired with a good bag, the R7 insulation rating will keep you warm on the chilliest of nights.
Cost: $239 | Buy online at thermarest.com.
---
HEST Foamy
The Foamy is the camping mattress you have been waiting for; maximal comfort & support that rivals your home mattress in a packable, portable adventure-ready form. The Foamy contains two layers of enhanced memory foam that provide body alignment and pressure point relief for the best night's sleep you'll ever get camping. Designed to roll with you on all your adventures, the Foamy's integrated compression strap and durable, water-resistant materials are ready for all kinds of camping in all kinds of conditions. Toss your foamy roll in your van and get after it! No pump or air is needed. Offered in two sizes a regular and wide width to meet all types of dreamers' preferred sleeping dimension needs.
What we like about this Mattress: Amazingly comfortable. No air to deal with, feels like a real bed mattress.
Cost: $299 | Buy online at hest.com.
---
Nemo Roamer Double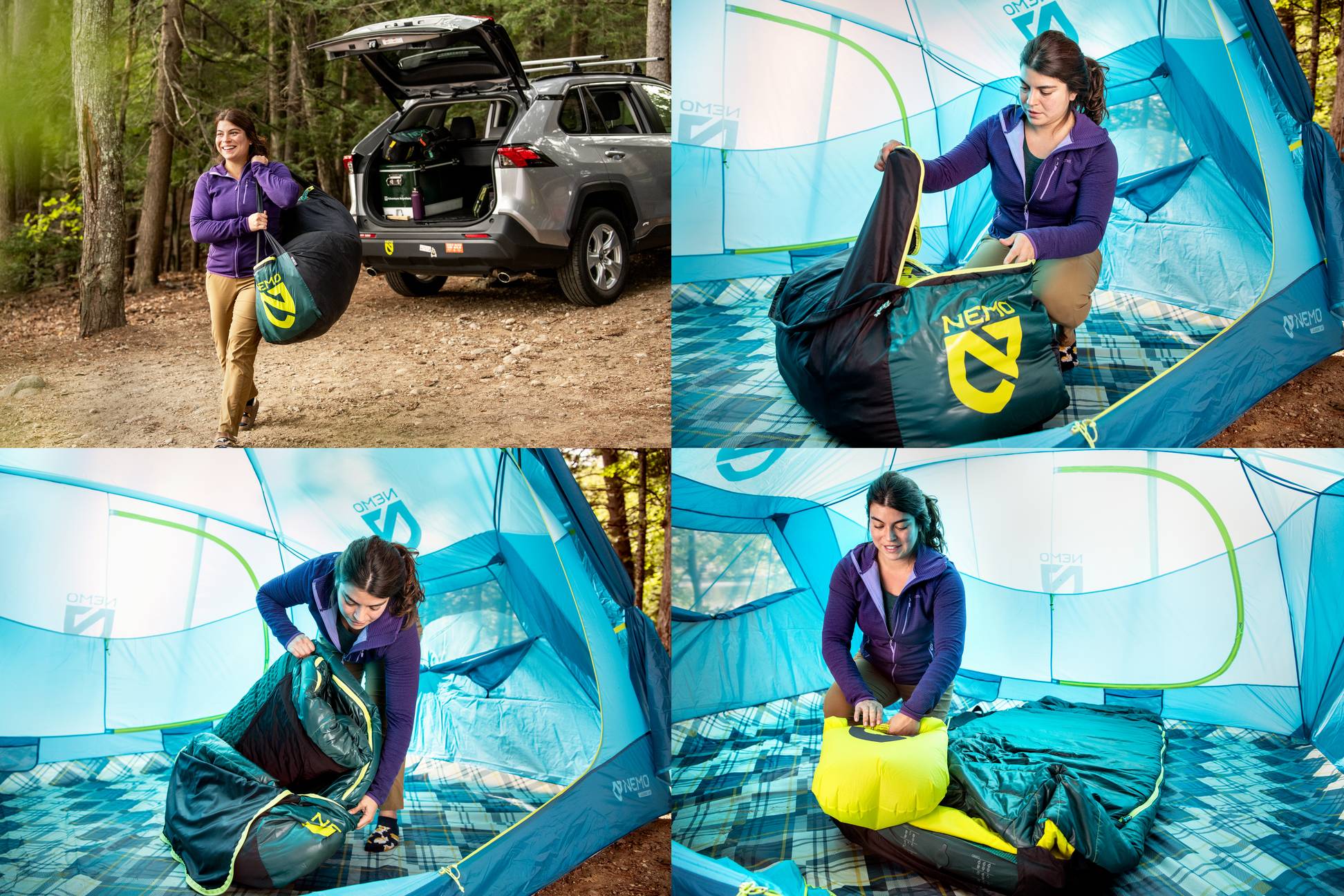 When looking to spend the night just a little closer, look at the Nemo Roamer Double. Afterall, body heat is essential on cold nights. The Roamer is another fine example that camping doesn't have to be roughing it. Nemo's innovative and proprietary internal air channels, called Flow Core™, drastically speed up inflation and deflation, and reduce packed size well below others. Our double sleeping pad took up the same amount of room as the other singles. This is the perfect setup to convert that non-camper into a camper.
If you or your partner demand the comforts of home, our Roamer pad is the answer. And thanks to its patent-pending internal architecture, it packs surprisingly small, leaving plenty of room for other niceties. And when you get to camp, it self-inflates in a matter of seconds and the firmness can be fine-tuned with our Laylow™ micro-adjustable valve. The stretch fabric top conforms to the body, while the durable 75D fabric bottom is ready to withstand anywhere you'd like to call home for the night. And continuing NEMO's dedication to sustainability, The pad includes a go-anywhere stuff sack with a built-in pump sack
Roamer fabrics are made of bluesign® certified 100% post-consumer recycled materials. Watch the video here.
What we like about this Mattress: Double sized mattress that sleeps two side by side with no gap to fall in. Pair this mattress with the Nemo Jazz double sleeping bag This double wide super comfortable mattress is also available in single. Single size pads can also be zipped together.
Cost: $399 for the double and $259 for the single. | Buy online at nemoequipment.com.
---
Helinox Cot One Convertible
If you are looking to elevate off the ground, then a cot is the way to go. Easy to setup and offers adjustable tension, extra surface area and support for slumbering, the strong, light and durable Helinox Cot One Convertible creates a comfortable bed in camp or wherever you decide to rest your head.
What we like about this cot: While is does not offer an R value, when paired with one of the above mattresses, it make one heck of a combination. Perfect for those how dispise being directly on the ground.
Cost: $349 | Buy online at helinox.com.
---
Deep Sleep for Jeeps
Deep Sleep for Jeeps is an air mattress designed to fit perfectly in the back of your Jeep Wrangler and possibly a lot of other SUVs out there. So why is this one so special? The Deep Sleep for Jeep is cut to fit inside the Jeep Wrangler JL. So this is not a standard rectangular air mattress, but is contoured to fit around the wheel well, and the cup holder in the center. While this might seem odd, if actually gives you a little extra room in the upper body area and is narrower by the legs, similar to a mummy bag design. You can even buy two of them and pair them together to fill the entire rear cargo area.
The mattress uses a foam and air combination and is self inflating (take about 10 minutes) or can be used with a pump or done the old fashion way. A definite must for those traveling in a wrangler.